Government
Specializing in Government Office & Agency Shelving, Cabinet & Locker Storage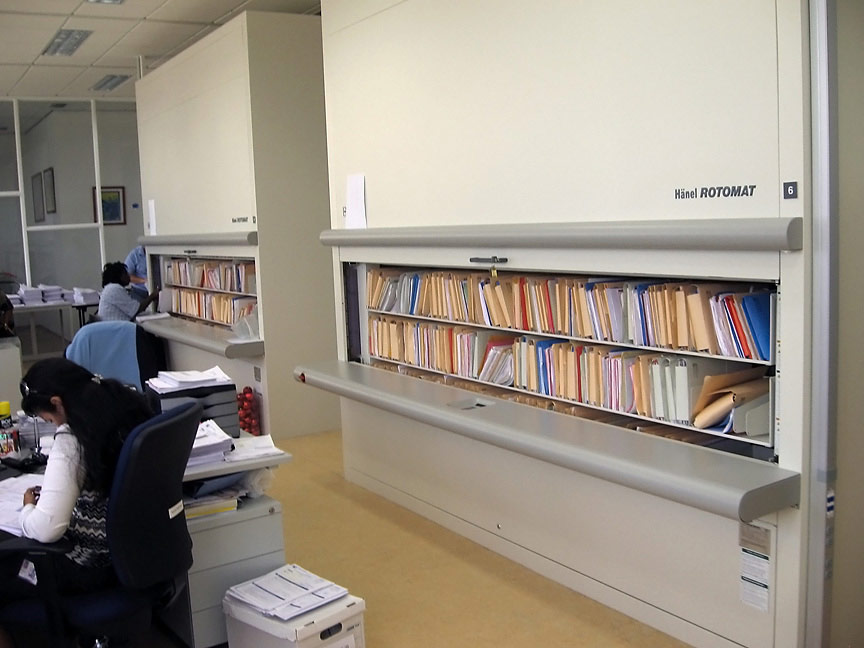 From the postal service, to the FBI, to a wide range of city, county and state agencies, the challenge is often the same –do more with less. Government storage solutions from Patterson Pope can help accomplish that goal. Not only can you store your stuff in half the space, but (with our well-designed storage systems) you'll also be organized. 
Whether you are stocking a small county office or a large facility in the state capital, the need is the same – to store the most amount of stuff in the smallest amount of space in a way that makes retrieval simple. That's where Patterson Pope's government storage solutions come in. With our modular drawer cabinets or rotary file cabinets, you can store your stuff in less space. Choose automated retrieval systems to make retrieving files and supplies as simple as pushing a button.
Contact us today by completing the easy to use Information Request form or by visiting our Contact Us page.
Yet file storage is not the only consideration for today's government agencies. Law enforcement officials, for example, must store evidence, and that can get bulky and cumbersome. For that we offer evidence storage lockers (learn more), high-density mobile shelving and static shelving in all shapes and sizes. We even have refrigerated lockers (learn more) ideal for fragile evidence storage, like DNA samples, that law enforcement officials may need to store. Our weapons lockers, racks and boxes are perfect for police precincts and sheriff's stations. Add our fire hose racks and you have all of the storage that emergency personnel need.
If your agency needs to give its workers a place to stash their personal stuff, we can help with our lockers. We also carry all of the supplies you need to set up a working mailroom at your agency, so you can ensure that important deliveries end up where they need to be. Our modular casework can be used to create a custom office furniture setup, complete with cabinets and drawers to store your office supplies in a tidy fashion.
With Patterson Pope's person, file, and evidence storage expertise and innovative products, clutter will no longer be a problem for your government office. From the local level to the federal level, we have been providing government storage solutions for 40 years. With us, saving time and space just got a little easier.